Our Associate Advisers
"We recognize that environmental, social and governance issues affect the performance of your investment portfolio."
Adam G. Robinson, CFP®

Financial Adviser
Adam Robinson joined the Ostberg & Associates team in 2011 as a Financial Adviser*, after 9 years in the industry.
Adam grew up in Florence, MA where sports played a major role in his youth. He had the great fortune of playing on many successful teams coached by many wonderful mentors, including Rob Ostberg's late father "Doc" Ostberg. Adam's combination of excellence on and off the field at Northampton High School made him a highly sought after Division I college recruit. As a top pitcher and a National Honor Society member, Adam was offered many athletic and academic scholarships to top colleges and universities all over the country, but chose to remain in the Valley and attend the University of Massachusetts at Amherst.
After graduating from UMass Amherst's Isenberg School of Management with a Degree in Business Management, Adam re-located to the eastern part of the state to begin his professional career.
Adam is thrilled to be back home in the Pioneer Valley where he resides with his wife Kristen and two young children, Carter and Sophia.
Mark B. Goggins

Financial Adviser
Born and raised in Northampton, Mark has a strong commitment to serving the community, instilled in him by his father, William J. Goggins, last Superintendent of the Northampton State Hospital; his brother, Patrick M. Goggins, who served as County Commissioner and City Councilor; and other members of his large family.
Mark has a passion for people and sports. He played basketball for Northampton High School and is an avid runner and golfer. For many years, he has coached both boys and girls through the Northampton Recreational Department and the Suburban Basketball and Softball Leagues and has served as a youth soccer referee.
After more than 20 years of experience in the mortgage industry with Mortgage Master and Applied Mortgage Services, Mark was thrilled to join our team in 2014, allowing him to extend his experience to help individuals and families with their personal financial goals and security. Mark graduated from The University of Massachusetts with a degree in Political Science and is currently on the board of Nonotuck Resource Associates.
Mark lives in Florence with his wife, Rebecca, and his daughters, McKenna and Brynn, who are all active in the community.
Kathy Foote Newman, CLTC®

Financial Adviser
Kathy is an experienced Financial Adviser who has worked at Ostberg & Associates since 2007 in a range of roles. A lifelong learner, she has received numerous certifications and accolades along the way. In her first year as a Financial Professional with New York Life in 2018, she attained Executive Council status within months and was named Rookie of the Year by the Connecticut Valley General Office. Kathy's intuitive and thoughtful approach to advising clients allows her to excel in supporting them during life's transitions, such as getting ready for retirement, welcoming a new baby or a child headed to college. Passionate about financial empowerment and education, Kathy especially enjoys when she can help empower women to understand and take ownership over their finances. Kathy is commitment to sustainable investing which enables her to further collaborate with her clients and problem-solve to support them in achieving financial independence and peace of mind. Kathy takes her role of supporting folks on their financial journey seriously, and is committed to continuous learning to enhance her ability to offer solutions for her clients.
Kathy is a native of Northampton with a commitment to her community and raised 3 amazing children here with her late husband. She has held numerous leadership positions on nonprofit Boards, has served as an elected official on the school committee, and helped to found a youth baseball program. As an avid quilter and lover of nature, Kathy can often be found in her gardens, making quilts, or taking a walk outside.
Kathy holds certifications and membership in the following areas: Million Dollar Round Table as a top producer in years 2019 – 2023, Financial Service Professional, Certified Long-Term Care, Member NAIFA. She has licenses in Life and Health, FINRA Series 7, 63 and 66. Kathy graduated Cum Laude from University of Massachusetts and is currently taking additional graduate level financial coursework to further her training and knowledge.
CA Insurance license #4032136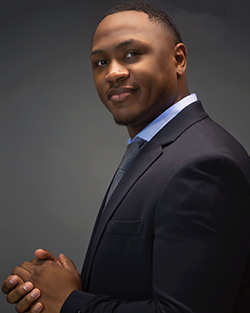 Kashawn Sanders

Financial Adviser
A native of Springfield, Massachusetts, Kashawn is the most recent addition to our team in 2020. Kashawn currently holds his Life & Health, FINRA series, 7, and 66. After only three years, he was a Magna Cum Laude graduate, with a Business Management degree, from the University of Massachusetts, Dartmouth.
Before joining Ostberg and Associates, he worked in management-level positions in transportation and logistics, retail, and manufacturing. Through his experiences, he holds several certifications in Business Analysis, Lean Management, Lean Six Sigma, and Project Management and is looking forward to applying his skills and education to the financial services industry.
Mr. Sanders is actively involved in giving back to his community and is the President of a nonprofit called "Follow My Steps Foundation". It's aimed at giving back to high school youth from under-resourced communities. The organization started with Springfield Central High School students, where he graduated. He's excited about his opportunity to impact and uplift others.
Adam Krol

Financial Adviser
Adam is one of the fresh new faces in the office. He joined the team in June of 2018. Adam currently holds licenses for Life & Health and FINRA Series 7 and 63. As a 2018 graduate of Saint Anselm College, Adam received his Bachelor's Degree in business and had a four-year career as a scholarship athlete on the baseball team. In addition to working at Ostberg & Associates, Adam served as the head pitching coach at Advanced Performance Academy, coaching local high school and youth baseball players. He is a native of Sunderland and currently resides in Northampton
The Million Dollar Round Table (MDRT), The Premier Association of Financial Professionals, is recognized globally as the standard of excellence for life insurance sales performance in the insurance and financial services industry.
Council is an annual New York Life recognition program based on agent production from July 1- June 30.